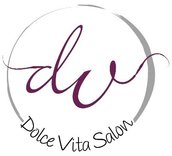 **Levels are determined by years of service, advanced education and demand for stylist time**​
Bridal Guide Magazine:
How to Prepare for Your Hair Trial
​Here at Dolce Vita, we offer full service accommodations for bridal parties.
We have two on staff make up artists along with our expert stylists for all your hair, make up and natural nail needs.
MAC cosmetics are used on all make up applications. Ask about lashes...a great accessory to open up your eyes on your special day.
On site salon prices
Bridal updo $95 & UP
Bridal Practice UpDO $ $70 & UP
Bridal Make up $75
Bridal Practice Make up $50
Formal updo
Associate $65
Level 1 & 2 $75 & UP
Makeup $55
Airbrush $85
Lashes $10
Off site services Surcharge
Off site during salon business hours:
$40 Surcharge
per stylist/Makeup artist
Off site Non-Salon business hours:
$100 Surcharge
per stylist/makeup artist
**Off site surcharge do not Include service cost.
Off site Wedding services located 10 miles or more from Salon will incur an additional charge for mileage.
Got Natural nails and don't want to commit to acrylic or gels?
Shellac is the right product for you.
​It's a 14 day manicure that combines the ease of
polish with the permanence of gels.
Removal is just 10 minutes
45 min. $27 *first time shellac service $18
Treat yourself to one of our decadent signature pedicures to give your feet that extra TLC for your special day.
All Dolce Vita Signature Pedicures
$35/Manicures $20
​ A non-refundable 20% deposit due 30 days prior to the event date.
This 20% non-refundable deposit will be used toward gratuity on the day of services.
Cancellations or modifications to the appointments must be made no later than 2 weeks before the scheduled appointment.
A cancellation later than 2 weeks before the scheduled date will result in the full amount of charges for scheduled services to be due.